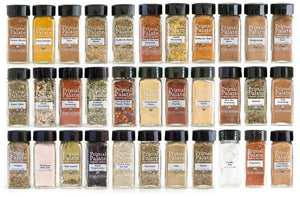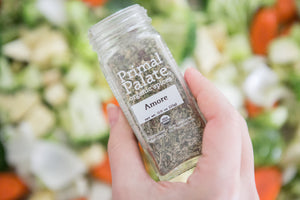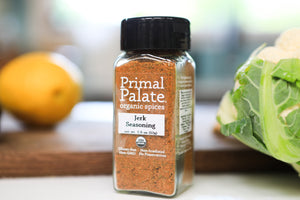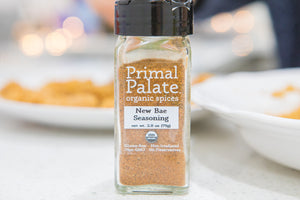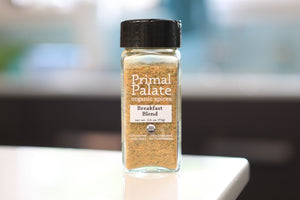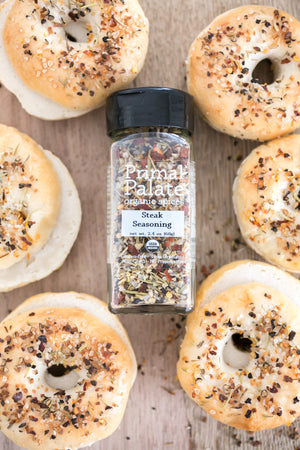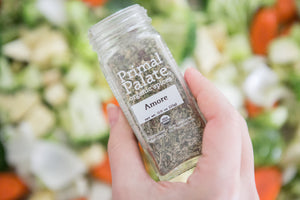 One of Everything Bundle - SAVE $140 (37% discount)
This is a 41-bottle combo pack containing all of our 4oz bottle spices and spice blends.
New Bae Seasoning: This blend is a fiery new flavor in your life, giving quite the kick to anything from seafood to roast vegetables to epic potatoes. Reach for it Before Anything Else. Ingredients: Himalayan Pink Salt, Paprika, Celery Seed, Black Pepper, Ancho Chili Powder, Cayenne, Cardamom, Allspice, Mace, Bay Leaves.
Amore: Our take on Italian seasoning, this blend delivers bold and savory flavors to your favorite chicken, soup, or pasta dish! Ingredients: Garlic, Rosemary, Onion, Oregano, Thyme, Basil, Parsley, Red Chili Flakes.
Jerk Seasoning: This is one Jerk you'll be happy to have in your kitchen. Give depth to your favorite chicken and pork dishes with its smoky complexity, warmth, and well-rounded flavor. Ingredients: Himalayan Pink Salt, Onion, Smoked Paprika, Allspice, White Pepper, Cinnamon, Thyme, Chives, Ginger
Steak Seasoning: Not just for grilling steaks, the coarse textured blend of salt, spices, and herbs brings a unique and bold flavor to your favorite beef, pork, chicken, or vegetable dishes. Ingredients: Coarse Sea Salt, Onion, Black Pepper, Garlic, Chilies, Thyme, Rosemary, Dill, Coriander
Taco Seasoning: Taco Tuesday is everyday with this tasty seasoning. This perfect blend spices up ground beef, carnitas, and chicken. Try it on your next taco, fajita, or salad. Ingredients: Chipotle Chili Powder, Pink Himalayan Salt, Paprika, Black Pepper, Cumin, Garlic
Seafood Seasoning: The lemon peel and chives in this blend provide a wonderfully bright, citrus forward flavor to make your seafood dishes really shine, especially shrimp, salmon, and scallops. Ingredients: Pink Himalayan Salt, Onion, Black Pepper, Lemon Peel, Garlic, Bay Leaves, Parsley, Chives
Adobo Seasoning: One of our favorite spice blends, Adobo is versatile, and brings all sorts of dishes to life. Try it on grilled meats and sautéed vegetables Ingredients: Pink Himalayan Salt, Garlic, Onion, Black Pepper, Oregano, Turmeric
Barbecue Rub: This "cookout hero" nicely flavors all sorts of meats, from wings to ribs and everything between. Ingredients: Pink Himalayan Salt, Onion, Garlic, Paprika, Oregano, Turmeric, Black Pepper, Ginger, Cumin, Cayenne, Coriander
Meat & Potatoes Blend: Our signature blend for seasoning home fries and meatballs. It adds wonderful flavor to just about anything. Unsure how to season a certain dish? Try this! Ingredients: Pink Himalayan Salt, Paprika, Onion, Garlic, Black Pepper, Oregano
Super Gyro: Not just for Gyros, this "Super Hero" seasoning is fantastic on a variety of dishes. Bring a taste of the Mediterranean to any meal with this versatile spice blend. Ingredients: Himalayan Pink Salt, Oregano, Marjoram, Thyme, Garlic
Garlic & Herb: This spice blend tastes great on just about any dish, although it's perfection for poultry. This wonderfully balanced blend is a great way to enhance the flavors of your daily meals. Ingredients: Garlic, Himalayan Pink Salt, Onion, Oregano, Thyme, Sage
Breakfast Blend: From meat to vegetables, this blend will awaken your dishes with a zesty and warm flavor. Perfect to start your day! Ingredients: Himalayan Pink Salt, Garlic, Onion, Oregano, Cinnamon, Turmeric, Sage
Curry Powder: Our blend of traditional Indian flavors adds complexity with a touch of heat to your favorite dishes.  Use it to season meats, or add it to coconut milk for a delicious curry sauce.  Ingredients: Turmeric, Coriander, Ginger, Garlic, Cumin, White Pepper, Fenugreek, Cayenne, Cloves, Mace, Caraway
Garam Masala: Our Garam Masala blend contains spices commonly used in Asian cuisine. Bring extra warmth and sweet flavor to your curries, rice, or rogan josh dishes.  Ingredients: Cumin, Cardamom, Cinnamon, Black Pepper, Cloves, Mace
Chinese Five Spice: Ubiquitous throughout Asian cuisine, our warm, spicy-sweet blend goes well with meat, stir fry vegetables, as well as slow cooked recipes. Ingredients: Fennel, Cinnamon, Star Anise, White Pepper, Cloves
Apple Pie Spice: This harvest season favorite is a great addition to pies, cakes and muffins. Our unique blend of exotic spices will make any dish instantly feel cozy with warm and bright flavors. Ingredients: Saigon Cinnamon, Ginger, Allspice, Cardamom, Nutmeg
Gingersnap: Your secret ingredient for holiday baking. Enjoy it with cookies, cakes, or add it to your favorite drink for a festive twist. Ingredients:  Ginger, Maple Sugar, Saigon Cinnamon, Allspice.
Pumpkin Pie Spice: The pinnacle of fall flavors, our Pumpkin Pie Spice is fantastic for pies, muffins, cheesecake, custards, sweet potatoes and winter squash, or even your pumpkin spice latte! Ingredients: Saigon Cinnamon, Ginger, Cloves, Nutmeg
Cinnamon sugar cookie brings back the flavors of your favorite holiday memories with this magical blend. Beyond cookies, try it with cinnamon rolls, baked apples or on coffee cake. It's also a great addition to your morning tea or coffee. Primal palate cinnamon sugar cookie combines organic maple sugar with Saigon cinnamon (the signature cinnamon flavor of pies and desserts).

Poultry seasoning:  a must-have staple for any kitchen. This blend of savory herbs is fantastic on chicken and turkey, but also great on pork and roasts as well. Certified Organic Ingredients: Sage, Thyme, Rosemary, Parsley, Marjoram This Blend is salt-free and AIP Friendly
Smokehouse Rub:
Bringing a smoky and sweet BBQ flavor to any dish you imagine. Try it for ribs, wings, pork shoulder, and even the perfect BBQ potato chips! Certified Organic Ingredients: Maple Sugar, Paprika, Onion, Garlic, Himalayan Pink Salt, Chipotle Chili Powder
Citrus Stir Fry: This citrusy blend will brighten up any dish, finishing with a little heat too! Certified Organic Ingredients: Orange Peel, Lemon Peel, Himalayan Pink Salt, Ginger, Garlic, Onion, Chives, White Pepper, Red Chili Peppers
Ginger Cilantro (All-purpose AIP): This blend can go anywhere, perfect from tacos to 'taters. This easygoing blend has a little something for everyone. Certified Organic Ingredients: Himalayan Pink Salt, Onion, Cinnamon, Garlic, Cilantro, Ginger, Oregano, Turmeric
Plus Our line of Essential culinary spices:
Basil: Our dehydrated, organic basil retains a slight anise undertone and is a perfect last-minute addition to sauces, fish, meat and poultry, vegetables, and fresh tomatoes.
Bay Leaves: Our superb Turkish Bay Leaves are fragrantly sweet, with hints of lemon and cloves. Use in soups, stocks, sauces, roasts, or add to marinades. Remove before serving.
Black Peppercorns: Our Black Pepper stimulates your tastebuds with subtle heat and exotic flavor. It can be used to accent dishes in nearly every cuisine. Grind just prior to use to experience best quality.
Cayenne: Cayenne is the perfect ingredient if you're looking for a little heat in your cooking. At 40,000 Scoville units, this chili pepper is great for kicking things up a notch without overwhelming the dish.
Cinnamon: The pinnacle of fall flavors, Saigon Cinnamon brings warmth to your favorite dishes all year round. The bold flavor of this variety instantly makes any dish cozy and comforting.
Crushed Red Pepper: Our organic Crushed Red Pepper Flakes can add a touch of heat to just about any dish. Use it anywhere you need a little extra kick.
Cumin: Our organic cumin boasts a sophisticated, distinctive warmth, and is one of the most globally used and recognized spices today
Ginger: Ginger has been cultivated for over 3,000 years. Ancient writings suggest ginger for healthy digestion; we suggest it for an aromatic and spicy-sweet flavor.
Granulated Garlic: Garlic has a long history of use for culinary and medicinal purposes dating back 7,000 years. We love it for its spicy flavor that mellows and sweetens with cooking.
Granulated Onion: Onion is a must-have flavor in the kitchen. With its sweet and savory flavor, onion is a cornerstone in every cuisine and will liven up almost any recipe.

Himalayan Pink Salt: Considered to be the purest of all salts, mineral-rich Himalayan Pink Salt is an amazing flavor enhancer, perfect for all types of dishes.
Oregano: Indispensable to tomato based sauces, Italian, Mexican and Spanish dishes.  Whole leaf oregano is prized for its aroma and mild, sweet flavor.
Parsley: Our organic parsley, with its bright, yet earthy flavor is an essential ingredient in many cuisines and adds a delicious freshness to a range of savory dishes.
Rosemary: Rosemary is a fragrant, woody herb that imparts a distinctive flavor and aroma in cooking. This versatile herb pairs especially well with chicken, turkey, lamb, and pork.
Sage: Sage has legendary status as both a medicinal and culinary herb. Enjoy this herb, with its slightly peppery flavor, on your holiday roasts, poultry and other meats.
Sweet Paprika: Sweet and fruity with vibrant color that will add brilliance to your meals. Not just for garnishing, our paprika brings wonderful flavor and aroma to everything from roasts to curries.
Thyme: Thyme is one of the oldest and most popular herbs. Its distinctive flavor complements most hearty and savory dishes including soups, roasts, and vegetables.
Turmeric: Long used as an anti-inflammatory in Eastern cultures, Turmeric has a peppery and warm flavor, with aromatic hints of orange and ginger. 
CA Residents:  Click here for Proposition 65 disclosure