Gather, the Art of Paleo Entertaining
Inside this book, you're going to find everything you need to throw an amazing Paleo party for your family and friends. There are themes of all sorts, menus for major holidays, and a wealth of recipes that will even spice up your weeknight meals. You don't have to entertain to use this book, but if you do – the extra care and attention to planning the party and timing the meal go a long way towards ensuring perfection.
In Gather, you'll discover that following a grain-free, Paleo lifestyle can benefit anyone, especially those who feel confined by the idea of a "diet." The wealth of recipes and inspiring menu ideas in Gather aim to make the Paleo diet easy, accessible, and delicious for everyone and any special occasion.
Here are some recipes you WON'T want to MISS!
SPRING MENUS
General Tso's Chicken, from "Takeout Fake-Out" Menu
Braised Pork Belly – from "Casual Sunday Brunch"
Cranberry Scones and Orange Scones – from "Springtime Tea Party"
Meyer Lemon Tart – from "Easter Lunch"
No'tato Salad – from "Backyard Picnic"
SUMMER MENUS
Margherita Pizza – from "A Night in Tuscany"
Apple Pie with a Lattice Crust – from "Midsummer Garden Party"
Stuffed Red Snapper – from "Tropical Getaway"
Yuca con Mojo (Yuca with Garlic Sauce) – from "A Taste of Cuba"
Pan Seared Lamb Chops with Rhubarb Chutney – from "Urban Escape"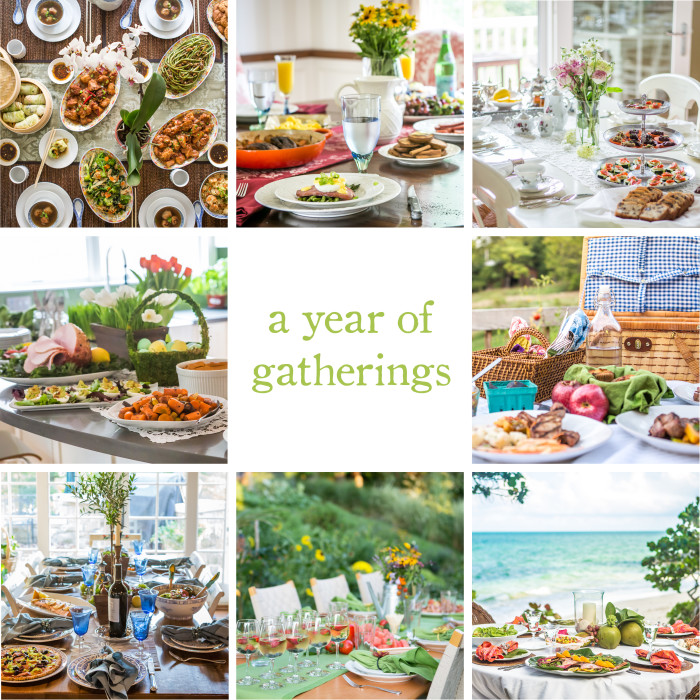 FALL MENUS
Pumpkin Chicken Chili – from "Harvest Dinner"
"Bleeding" Cupcakes – from "Spooky Supper"
Apple Veal Stuffing – from "Thanksgiving Feast"
WINTER MENUS
Sweet and Tangy Venison Meatballs – from "Hunter-Gatherer Feast"
Checkerboard Cake – from "Birthday Celebration"
Yorkshire Puddings – from "Winter Holiday"
Crostini with Goat Cheese and Fig Compote – from "New Year's Cocktail Party"