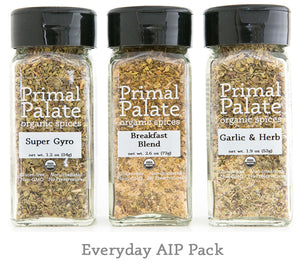 Everyday AIP Blends
Our Everyday AIP Blends are not only AIP- friendly, but blends anyone could use in everyday cooking. This trio of blends are the perfect complement to any meal!
Super Gyro: Not just for Gyros, this "Super Hero" seasoning is fantastic on a variety of dishes. Bring a taste of the Mediterranean to any meal with this versatile spice blend.
Certified Organic Ingredients: Himalayan Pink Salt, Oregano, Marjoram, Thyme, Garlic
Garlic & Herb: This spice blend tastes great on just about any dish, although it's perfection for poultry. This wonderfully balanced blend is a great way to enhance the flavors of your daily meals.
Certified Organic Ingredients: Garlic, Himalayan Pink Salt, Onion, Oregano, Thyme, Sage
Breakfast Blend: From meat to vegetables, this blend will awaken your dishes with a zesty and warm flavor. Perfect to start your day!
Certified Organic Ingredients: Himalayan Pink Salt, Garlic, Onion, Oregano, Cinnamon, Turmeric, Sage
CA Residents:  Click here for Proposition 65 disclosure