Who We Are
We are a family-run business that loves cooking great food and sharing it with people! Our family, like many others, has spent countless hours bonding over creating meals together. Through our recipes and products we hope we can bring you into our kitchen and share that love with you.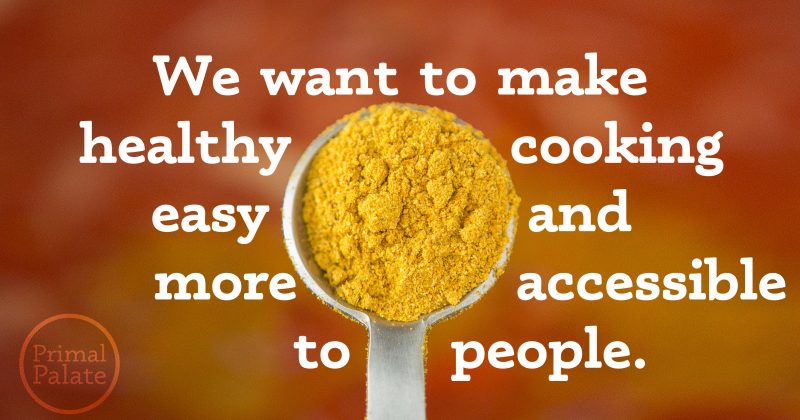 What We Do
Over the years, we've been driven to help make healthy cooking easier and more accessible to people. At the core of what we do, we share great, easy-to-make, and healthy recipes on our website. We've written several best-selling cookbooks based on the Paleo diet, though our day to day eating has drifted more towards just keeping things gluten-free. After writing our latest cookbook "Make it Paleo 2" – we asked ourselves: "How can we make healthy cooking even easier?"
The answer to that question was obvious. Easy recipes are great, but everyday cooking shouldn't require recipes. It's more about cooking by feel. And the way we've done that for years is by creating and using our own spice blends to make our meals quickly and consistently delicious. From that idea, Primal Palate Organic Spices was born. Our product line includes organic spices and spice blends, organic extracts, culinary salts and straight spices, and has recently expanded to include organic and grain-free chocolate chip cookie dough.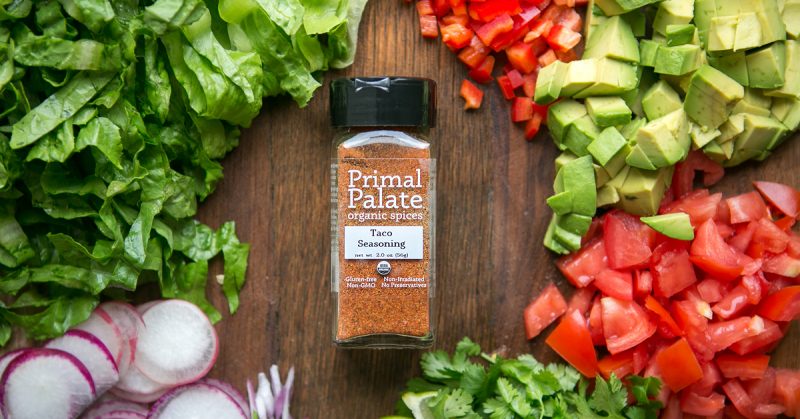 Why We Do It
Our mission is to bring you high quality food products with a freshness and flavor that will surpass your expectations. We hope that our spices help you to transform simple dishes, and make extraordinary meals everyday. We still regularly share healthy and nutrient-dense recipes on PrimalPalate.com, too. We've baked industry-leading technology into our recipe database, allowing you to sort recipes by multiple dietary restrictions. After all, providing access to healthy recipes is part of our driving force. With our spices, cookbooks, cookie dough, and recipes, we want to create an experience with you that is accessible and enhances your relationship with food.
Meet the Team

Hayley
Hayley is the creative force behind the recipes and products of Primal Palate. As long as she can remember, Hayley has been interested in cooking. She has been a Paleo follower for over a decade, and has a talent for reimagining recipes as healthier versions of traditional preparations. Over the years, she's expanded her quest for health to explore mental health, better beauty products, and now our greatest adventure: raising a healthy little baby. When she's not busy creating delicious recipes for Primal Palate or raising Isla, she enjoys home renovation projects, gardening, and spending time with family.

Bill
Before meeting Hayley in 2010, Bill was a budding fitness junkie. Adding Paleo into the mix of strength training was an "a-ha" moment for him, and he's been combining the two ever since. He, too, has always enjoyed cooking, and gravitates toward complicated food projects. At Primal Palate, Bill enjoys bridging the creative side of the business and day to day operations, helping to execute on Hayley's creative ideas, and even take credit for them occasionally. But she never lets him get away with it. Outside of Primal Palate, Bill is an avid autocrosser with the SCCA and is a 2021 national trophy winner in his class. He also enjoys gardening, home projects, and is a lifelong musician. He loves being a dad and husband more than anything, though.

Justine
A lifelong student of nutrition and healthy eating, Aunt Justi is passionate about nourishing her family and friends with healthy food. Her love of health and wellness through food was instilled in her by her parents at an early age. Justine leads the fulfillment team at Primal Palate, managing customer, wholesale, and Amazon shipments. As a part of her position, she has developed a keen eye for quality control across our entire product line. Outside of Primal Palate, she is a career mom, aunt, knitting and yarn addict, skier, paddle enthusiast, and amateur chef.

Paige
A true explorer and pioneer at heart, Paige has spent the last several years expanding her horizons academically while also traveling. She spent a semester studying abroad in Australia, enjoying the Aussie culture and also traveling around the continent. She is a former D1 athlete (field hockey at MSU), as well as an avid snowboarder. Paige formerly ran our West Coast shipping operations out of Salt Lake City, and is now based out of our Pittsburgh HQ.

Tony
Uncle Tony has over 25 years of experience in the tech industry, where he held a variety of executive operating and financial roles at public and private technology companies. When not working alongside Justine, Tony can be found in the river wakesurfing or on the mountains snowboarding.

Steven
Steven Susser (cousin to Justine) is an intellectual property attorney with Carlson, Gaskey & Olds in Birmingham, MI. Steven actively practices the Paleo diet and is a fitness enthusiast.