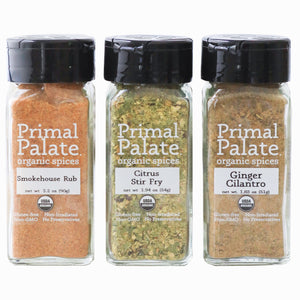 New Blends - Fall
Our New Blends for Fall 2021 bring diverse, complex flavors to the Primal Palate lineup. With our smoky and sweet Smokehouse Rub, our AIP-friendly Ginger Cilantro, and our bright and spicy Citrus Stir Fry, this pack is sure to give punch to your spice rack this fall. 

Smokehouse Rub: Bringing a smoky and sweet BBQ flavor to any dish you imagine. Try it for ribs, wings, pork shoulder, and even the perfect BBQ potato chips!


Certified Organic Ingredients: Maple Sugar, Paprika, Onion, Garlic, Himalayan Pink Salt, Chipotle Chili Powder
Citrus Stir Fry: This citrusy blend will brighten up any dish, finishing with a little heat too!
Certified Organic Ingredients: Orange Peel, Lemon Peel, Himalayan Pink Salt, Ginger, Garlic, Onion, Chives, White Pepper, Red Chili Peppers
Ginger Cilantro (All-purpose AIP): This blend can go anywhere, perfect from tacos to 'taters. This easygoing blend has a little something for everyone. 

Certified Organic Ingredients: Himalayan Pink Salt, Onion, Cinnamon, Garlic, Cilantro, Ginger, Oregano, Turmeric
CA Residents:  Click here for Proposition 65 disclosure